Kirkland Signature KS1 Golf Putter Weight Kit NEW (box shelf wear)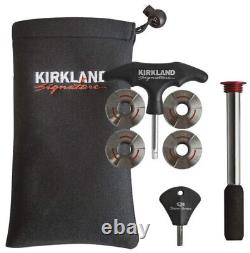 Enhance your golf performance with this brand new Kirkland Signature KS1 Accessory Kit designed to perfect your putting skills. The kit includes a weight kit for your golf putter, ensuring maximum stability and precision when putting. The brand prides itself on quality and reliability, and this kit is no exception. The Kirkland Signature KS1 Accessory Kit is perfect for golf enthusiasts looking to take their game to the next level.
Although the box may show some signs of shelf wear, the kit is new and has never been used. With the addition of this accessory kit to your golf club collection, you are sure to become a master putter in no time.

---