EPOCH JLPGA 2023 ROOKIES & WINNERS Box Packs Japan Ladies Pro Golf Official Card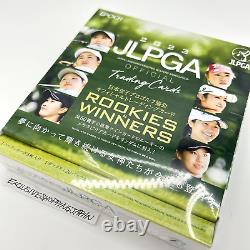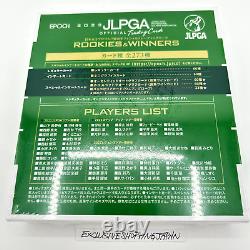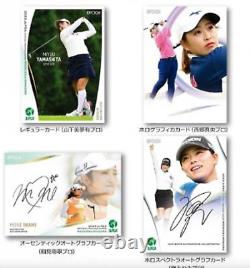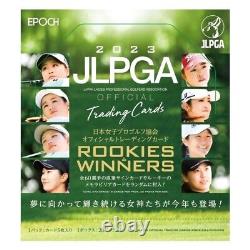 All items are 100% ORIGINAL AND BRAND NEW. EPOCH JLPGA Official Card 2023. THIS IS PRE ORDER ITEM!! Release Date : MAY 27th, 2023. POCH 2023 JLPGA Japan Ladies Professional Golfers' Association Official Card ROOKIES & WINNERS. May 27, 2023 Release (00-57429). The JLPGA will release two new JLPGA Women's PGA Cards in 2023! The first card features a lineup of 20 rookies and the previous year's tournament winners! Authentic Autograph Cards (autograph cards) of all players in the collection.
Authentic autograph cards of all the players in the collection, "memorabilia cards" with the rookie players' wear on them, and more! Two cards with serial numbers are randomly included in each box! There is a parallel version with hologram PP processing.
Authentic Autograph Cards: 60 kinds. There is a parallel version with hologram specification. Holographic Autograph Cards: 60 types. 33 types of memorabilia cards.
List of cards to be included Tentative. Miyu Yamashita, Mao Saigo, Moene Inami, Minami Katsu, Yuna Nishimura, Sakura Kohgi, Kotone Hori, Saiki Fujita, Serena Aoki. Momoko Ueda, Erika Kikuchi, Ayaka Takahashi, Haruka Kawazaki, Chirei Iwai, Mignon Lee, Hope Uetake, Ayako Kimura, Ayaka Watanabe. Yuting Seki, Saipei Ying, Ayamiyu Ozeki, Kumiko Kaneda, Ayaka Furue, Mayu Hosaka, Hana Waki Moto, Nao Obayashi. Sataya, Shinna Sakurai, Phoebe Yao, Ami Hirai, Misaki Miyazawa, Ai Shinozaki, Hina Aragaki.
Miyu Shinkai, Kaori Yamamoto, Mieko Nomura, Junko Omote, Akane Oshiro, Midori Wakaura, Sora Kamiya, Chihiro Kogure, Kazuki Tsuruse. Rui Hiraoka, Miu Fujii, Akari Takano, Ayano Mori, P.
Saipan, Kano Nakamura, Junna Okuyama, Nozomi Osuga, Koki Kobayashi. Park Ji-hee, Woo Chai-yen, Hana Chiba, Runa Ikegaya, Reiku Arakawa, Ajuka Minayoshi, Shizuku Takahashi, Jungji Yu. Specifications: 1 pack = 5 cards, 1 box = 20 packs, 1 carton = 12 boxes.
Not all types are available in a single box. Please check item specifics for more information about this product. Feel free to message us with any. Regarding our store and items listed.

---